We are very proud of our sporting achievements competing both locally and regionally. Children take part in a wide range of sporting events, developing new skills, setting personal goals, building strengths and working on weaknesses as well as creating lifelong memories and a real love for exercise and sport. The children take part in field and track events, galas, team sports, dance, gymnastics and even wheel chair basketball! We believe that a vast range of physical activities inspire the children to be determined, succeed and excel.
At Packmoor Ormiston Academy all children have access to two hours high quality PE every week. One session of PE is indoors and the other is outdoors following our well-balanced curriculum plan. All PE sessions are delivered and taught by high quality qualified teachers with the support of experienced teaching assistants. PE lessons are carefully planned and build on skills and knowledge taught in previous years. Differentiation is imbedded throughout every session enabling all children to fully engage and achieve their maximum potential. We encourage children to take part in cross country races, football competitions, multi-skills, sports hall athletics, tri-golf, athletics and Paralympics. We pride ourselves on our success and were thrilled with our previous trophies for overall swimming, girls athletics, boys athletics, overall athletics, boys and girls cross country and girls football. We utilise links with two local football clubs, who provide us with football coaching for gifted and talented children, as well as active skills sessions for a wider range of pupils, giving all children throughout the school opportunities to experience competition.
We currently hold the Gold Schools Game Award and have continued with this success for the past three years.
Please click the logo to find out more about this award.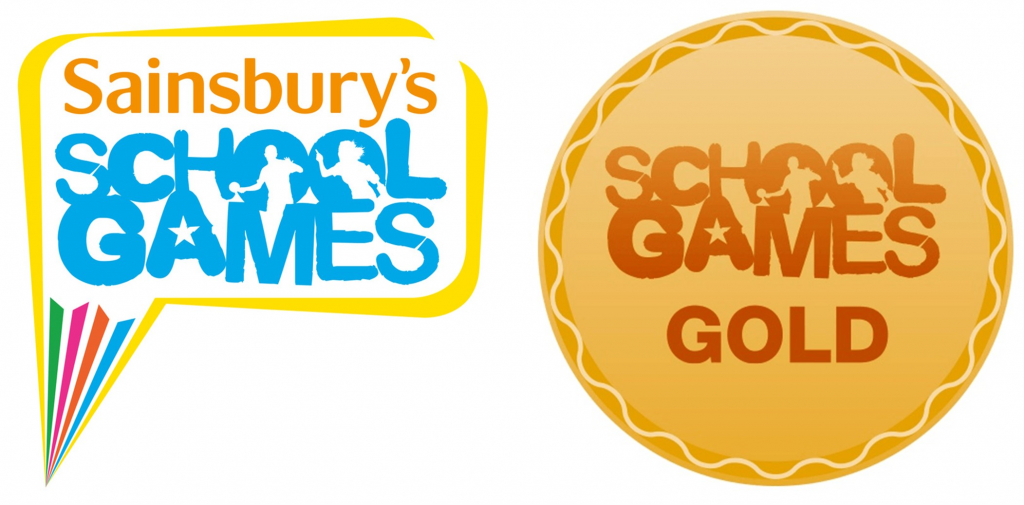 To continue at gold level we provide a wide variety of sports activities delivered by competent and confident teachers, ensuring all children are fully engaged and progressing throughout the PE curriculum as well as developing as inspiring young leaders. We ensure that good practises are followed and CPD for staff is implemented throughout the school year. We ensure that the school offers a comprehensive extra curriculum PE enrichment calendar and that any external providers are competent and fully knowledgeable.
Two of our staff have received gold OAT awards for contributions to dance and athletics.
Every year we also enjoy three whole-school PE 'change for life' days, exploring different sporting activities, researching sporting heroes and focusing on healthy living, providing children with foundations to support them in their futures. Previous days have included wheelchair basketball, football, rugby (with Sir Steve Redgrave) and Paralympic resources. The children thoroughly enjoy these days and especially relish the opportunity to try different sports.